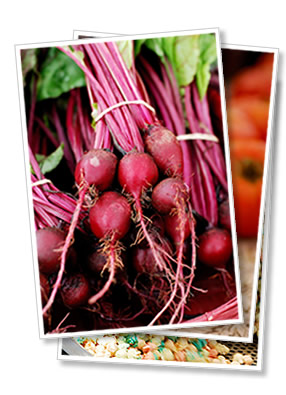 June through October, it's Connecticut's largest and most diverse farmers' market. We offer the freshest and best-tasting locally-grown produce, helping to preserve the tradition of small farms in the region. We specialize in organic, heirloom, ethnic and gourmet varieties of fruits and vegetables, and offer grass-fed beef, free-range eggs, milk, yogurt, smoked bacon, rustic breads, farmstead cheeses, European pastries, salsa, pesto, fresh herbs, cut flowers, chocolate fudge, honey, maple syrup, and more!
The market also features the work of local artists and artisans. Purchase handmade wares from those who crafted them and learn how they were created … think hemp clothing, goat's milk soaps, beeswax candles, stoneware, herbal tinctures, handcrafted beadwork, vintage cotton tote bags, and handspun yarns.
Live entertainment makes shopping at the market an opportunity to visit and unwind. Sustainable living programs are a fun way to learn something new. Pet a goat, have lunch in a grassy spot under the maple trees, or give your little one a ride in a red wagon. It's a dog-friendly market, too! A visit to our market with friends and family is the pièce de résistance of any weekend!
Interested in becoming a vendor?  Learn more.
Over the course of the season, in addition to our full time vendors, we are joined by about 500 guest vendors, community groups, musical performers, sponsors, 4-H groups, chefs, artists, makers, and people teaching, demonstrating a craft, showing off their animals, and lending a hand in every way you can imagine to make the CRFM an amazing place.
Each week, you will find with us a highly curated array of at least 75 vendors. The best of the best. For some events, this number nearly doubles.
Here is our roster of 2015 full time vendors:
Amor Food Truck
Apis Verdi Farm
Baker's Dozen Dog Treats
Blueberry Hill Farm
Bluebird Hill Farm
Bear's Smokehouse BBQ
Beltane Farm
Blake Orchard Juicery
Bloomfoods
Blue Moon Woolworks
Bluebird Hill Farm
Botticello Farms
Capa Di Roma
Carol Monnerat Artisan Truffles
Cato Corner Farm
18th Century Purity Farm
Crocker Farm (August and September only)
CT Valley Farms
DiFiore Pasta Co.
Dragon's Blood Elixir
Easy Pickin's Orchard
Ekonk Hill Turkey Farm
Fabyan Sugar Shack
Faddy's Donuts and Ice Cream
Falls Creek Farm
Farm to Hearth
The Fish Market
GourmAvian Farm
Green Valley Farm Berkshire Pork
Keifer's Kettle Korn & Italian Ice
Little Bird Provision Co.
Lazizah Bakery
Maharajah Indian Restaurant
Maple Brook Forge
Meadowstone Farm Cheeses
Mercado Food Truck
Meriano's Bake Shoppe
Meriano's Cannoli Truck
Munchies Food Truck
Mystic Cheese Company
New Boston Beef
Norm's Best
NoRA Cupcake Company
Oak Leaf Dairy
Oxen Hill Farm
Pure Love Granola
Quiet Corner Fudge
Raw YOUniverse
RIPE Craft Bar Juice
Riverview Farm
Root Down Farm
Savor Cookies
Sean Patrick's Plants
Serafina Says Farm
Shayna B's Gluten Free Bakery
Sixpence Pie Company
Sleepy Moon Soaps (half time)
Soleil & Suns Bakery
Stonewall Apiary
Susan Parks Soaps (half time)
Tacos La Rosa
Taking Care of Tummies
The Nut Guy
Topmost Herb Farm
Truelove Farms
Turtle Creek Farm
Wayne's Organic Garden
Whey Station Grilled Cheese Truck
Whole Harmony Teas
Woodstock Hill Preserves