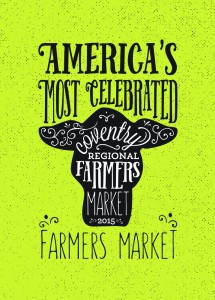 Summer 2015: it's the twelfth and final season of this storied farmers' market! Join us on Sundays, from 11-2 at the Nathan Hale Homestead, 2299 South Street, Coventry, Connecticut.

We've been cited as "America's Most Celebrated Farmers' Market" by American Farmland Trust, "New England's BEST Farmers' Market" by Yankeee Magazine AND selected as one of USA Today's "Top 10 great places to shop at a farmers market!"
The Coventry Regional Farmers' Market is like a country fair every Sunday… the old-fashioned kind, with farmers, produce, freshly baked pies, sparkling jars of preserves and pickles, handmade goods, and fiddlers.  New England Travel Magazine calls ours "Connecticut's preeminent farmers' market."  June through October, it's the largest and most diverse farmers' market in Connecticut.
The Coventry Regional Farmers' Market is included in the 2015 Farmers' Market Trail! Chart a course to discover the unique destination farmers' markets of Connecticut. It's a tour d' force of special places well stocked with farm-fresh foods and those made with passion using local produce, where you will meet people who enjoy creating things that matter.